[content warning: abuse, domestic violence, child abuse, torture, r*pe, this is a horror story]

I was hiding in my room, waiting for Dad to come in and beat me. It was Friday night, which meant he'd been out drinking and would come home, yell at Mum, yell at my brother and then it would be my turn for a visit. I was just waiting for it to be over. I hated waiting, knowing that it was coming, knowing that I was going to get hit. The worst part was that I didn't know what time he would come home. I used to go to bed, thinking that he wouldn't wake me in order to hit me and tell me what a waste of space I am, but I quickly found out that he had no qualms about pulling me from the bed by my hair and screaming at me. Like I was terrible for making him go to this extra effort to hurt me.
Where was he? I needed this to be over. I hadn't heard him come home yet. Maybe he had gotten into a fight at the bar. He was always fighting. The only place he didn't seem to fight was at work, which was good because Mum said we needed the small amount of money he was bringing in to put food on the table. Mum also worked but it wasn't enough to feed all four of us. I think that if she had one less child, maybe she could have left Dad and taken my brother with her. Maybe then we wouldn't have had to stay here. My fault again, being born and being another mouth to feed.

My alarm woke me up. I moved from my position in the corner on the floor, sore and tired. Looks like Dad hadn't made it home last night. Maybe he was passed out somewhere in a gutter. I could only hope. Those were the brief reprieves we would sometimes get; when he had too much to drink and couldn't make it home. It meant I had to wait until next Friday night to see how much my father hated me. In the meantime, breakfast.
Mum was in the kitchen, humming a tune about ducklings over the stove, making us bacon and eggs for breakfast. It was surreal. I hadn't seen Mum humming or singing, or even happy for that matter, in a long long time. It almost brought a smile to my face. Almost. It's hard to be happy when you know bad things are coming, just around the corner. My brother came out of his room when we were sitting down to eat. Mum was just having toast and eggs. She's a vegetarian, something that Dad always picked on her for. Said it made her weak, said it was why she never fought back. I shook my heads to dislodge the thoughts and focussed on my bacon and eggs. None of us asked where Dad was. It was nice to pretend for a while that he didn't exist. That it was just the three of us. Maybe one day my wish would come true. Maybe he was in a gutter somewhere, dead.

A whole week passed and I still hadn't seen him. It was beginning to worry me. Was this some sort of trap to make us all complacent and happy so that when he came back it would hurt even more? What about our money problems? I guess, if Mum didn't have to pay for his food and she got some more hours maybe we could get by.... Maybe I could get a part time job somewhere and help out. I knew my brother had been looking around. As it was Friday night, I went back into my corner and settled down for a long sleepless night of waiting for my father to come home.
At about 11pm he still hadn't come home. I checked the clock. I heard a door open and close, but this was at the back of the house. Confused, I decided to snoop. If I was quiet, he might not know that I was sneaking around and maybe I wouldn't get into trouble. To my surprise, it was Mum that I saw sneaking across the backyard, key in hand, heading for the shed that we used to store our whipper snipper, yard tools, and mower. Was she doing some late night gardening? I watched her slip in and I snuck out into the dark after her. As I got up close to the shed door, I heard muffled grunting. When I opened the door, a mix of happiness and revulsion welled up inside me. There was Mum, standing over Dad. He was chained to an old chair and was missing a leg and some fingers. Mum was humming a tune about ducklings as she carved some meat from his right forearm. In shock, I retreated back to my room.

The next morning, we had fresh bacon with our eggs again.


Powered by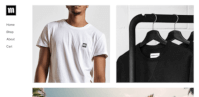 Create your own unique website with customizable templates.