I've had this saved in a word document for a while, waiting to make it into a zine. I thought I'd share it here for now so that y'all can enjoy it while I wait to get my butt into gear.


-----

The museum felt too clinical. All the surfaces white and chrome, with large empty spaces. Whoever had approved the refit must have forgotten that museums were there to connect us to the past, not make us distant observers.

"I think I found it," said Ambrose. They were peering at a map on the wall. One finger tapped a location marked 'Entomology Collection' while the other hand fiddled with a cord on their jumper. I noticed the fiddling and filed it at the back of my mind. I wanted to make sure they weren't pushing themselves too hard.

"Oh yeah? Think you can get us there?" I smiled warmly at them and they grinned back and grabbed my hand. "Hold on to your hats, gentlefolk," they announced to an imaginary crowd, "we're going on an adventure!" I chuckled. It was nice to see them having a good time. It had been a while since they'd had the energy to venture out of the house. Hopefully today was the start of a series of good days, but I also knew that people don't magically get better. I knew that depression and anxiety weren't magically cured by one good day. It didn't mean that I wouldn't stop hoping for more good days though. I squeezed their hand, twice. They repeated the squeeze back to me. Little signals we sent each other that meant 'I love you', or 'I'm okay'.

"Gentlefolk, I am pleased to announce that we have arrived at our destination." Ambrose flourished their hands in a giant wave at the 'Entomology Collection' sign. "And we didn't get lost once!" I laughed; it had only been down one short corridor. Ambrose made a bee line for the giant cicada shell – it was the whole reason for this outing. As I walked over after them, I noticed their shoulders slump slightly. Oh no.

"This is wrong. This is all wrong." They turned to me, the frown line between their brows deepening. "I can't believe they got the story so wrong. This is nothing like what Nan told me." I walked up to the small pedestal which held an inscription saying:



The last Giant Cicada,

(Cyclochila

praegrandis

) wa

s
captured and killed in 1938 by Captain Bradley Arlington of the mounted police. He is honoured tothis day as a hero who helped to rid the area of the
plague of Giant Cicadas, known colloquially as "man-eaters". Many schools and even a suburb have been named after him. This empty nymphal
casing is from that last Giant Cicada.


This definitely was not like the story Ambrose's Nan had told them. I'd been there for a couple of the tellings of this story, as it was a favourite of Nan's. While Ambrose and I stacked the dishwasher, she would tell us about the her Gran, a woman named Maggie, who was 'hired' (although never paid) to help police track down and kill Giant Cicadas back in 1938. She had a great knowledge of the area, gathered and passed down through countless generations, and the police exploited this when hunting down the 'man-eating' Cicadas.

The Cicadas would net any person who could catch one $50 from the Government as they sought to eradicate the 'pest'. Apparently Maggie thought it was really the new police and Government who were the pests, but she was too scared of what they might do to her wife and newborn child, so she continued to do as she was told. The men she answered to were the ones with the power. They were also the ones who would take all the money she should have earned when catching the last Giant Cicada.

No wonder Ambrose was disappointed. I reached out for their hands again, and they stepped forward to hug me. I knew they must be exhausted already. To come out here with so much energy, excited to see the story told by their Nan in the local museum, only to find out it had been buried by those with privilege and power.

I held them close, pressing my hands against their back, just being close to them. I knew words would be too overwhelming right now. We quietly left the museum.

Powered by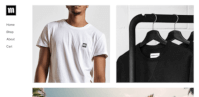 Create your own unique website with customizable templates.